http://newzealand-aviation-news.blogspot.com/
1. Pilot in Fatal NYC Chopper Crash Was Experienced
The man at the helm of a private helicopter that crashed into the East River on Tuesday, killing one passenger and injuring three others, was an experienced commercial pilot who owns a company that manages a local airport.
Investigators are still trying to determine why the helicopter went down shortly after takeoff from a riverbank heliport.
Emergency crews arrived within seconds of the crash to find the helicopter upside-down in the murky water with just its skids showing on the surface. The pilot, Paul Dudley, and three passengers were bobbing, and witnesses reported a man diving down, possibly in an attempt to rescue the remaining passenger.
Oct. 4: Survivors cling to the bottom of a helicopter after it inverted following a crash in the East River in New York.
New York Police Department divers pulled Sonia Marra, 40, from the water about 90 minutes after the Bell 206 Jet Ranger went down at around 3:30 p.m. She was pronounced dead at the scene.
Meanwhile, a portrait emerged of the pilot as an expert flier who once landed a plane in a field near Coney Island after its engine failed. Dudley owns Linden Airport Services, the company that manages the Linden, N.J., municipal airport under a 20-year contract with the city, Linden Mayor Richard Gerbounka said.
"He's an accomplished pilot," Gerbounka said.
Pilot Owen Kanzler, who said he has known Dudley for at least 20 years, said he saw Dudley's helicopter take off from the airport around 3 p.m. Flight conditions were calm, he said, with fair weather clouds above the altitude where Dudley would have been flying.
"As long as I've known Paul, he's owned and flown helicopters," he said. "He's a nice, outgoing man who does a fine job running the airport."
The passengers were friends of Dudley's family and were visiting New York to celebrate the birthdays of Marra and her stepfather Paul Nicholson, 71. He was on the chopper along with his wife Harriet, 60; and a friend of Marra's, Helen Tamaki, 43. The Nicholsons are British but live in Portugal; Marra and Tamaki, a citizen of New Zealand, lived in Sydney, Australia. The group had planned to do some sightseeing and then go to dinner in Linden, police said.
The pilot's wife, Sunhe Dudley, told The Associated Press that she had spoken to her husband briefly after the crash.
"These were actually very dear friends of ours that were in the helicopter," she said.
Mayor Michael Bloomberg said Dudley apparently reported problems in the helicopter and tried to turn around but instead crashed into the water.
The National Transportation Safety Board was on the scene Tuesday, and crews pulled the wreckage from the water about four hours after it went down. The chopper was taken to the police department's Floyd Bennett Field in Brooklyn. The airport in Linden, about 17 miles from the 34th Street heliport, was locked down briefly pending the arrival of Federal Aviation Administration and NTSB investigators.
The crash triggered a massive rescue effort, with a dozen boats and divers going down into the cold, gray water. Police officers doing a counterterrorism drill nearby jumped into the water wearing their uniforms, and without any rescue equipment they pulled the passengers to shore. Fire department rescue paramedics revived Harriet Nicholson and Tamaki, who were in critical condition; Paul Nicholson was stable. All were hospitalized. Dudley swam to shore and was uninjured.
"The pilot did indicate that there was somebody still in the helicopter," Lt. Larry Serras said. "By the time we swam to the helicopter it was completely submerged."
Officer Jason Gregory, one of the divers who brought Marra's body to the surface, said the helicopter was upside down in the sediment. He said she was in the back seat and wasn't buckled in by any seat belt.
The Linden airport is a popular base and refueling stop for helicopters and private planes operating in New York. Charter companies, news helicopter and private pilots use the airport.
In November 2006, Dudley landed a Cessna 172 light plane in a park near Coney Island in Brooklyn after the engine failed. No one was hurt during the emergency landing, and the plane was taken back to Linden after mechanics removed the wings.
The Bell 206 Jet Ranger is one of the world's most popular helicopter models and was first flown in January 1966. They are light and highly maneuverable, making them popular with television stations and air taxi companies. A new one costs between $700,000 and $1.2 million.
The East River has been particularly tricky for pilots because of its many bridges and its proximity to LaGuardia, one of the nation's busiest airports. In 2006, New York Yankees pitcher Cory Lidle died when the Cirrus light plane he was flying crashed into a residential building while trying to make a turn over the river.
In January 2009, an Airbus 320 airliner landed in the Hudson after hitting birds and losing both engines shortly after taking off from LaGuardia. The flight, U.S. Airways Flight 1549, became known as the Miracle on the Hudson plane.
But later that year, another crash had a much darker ending: a small plane collided with a helicopter over the Hudson River, on the other side of Manhattan, killing nine people, including five Italian tourists. A government safety panel found that an air traffic controller who was on a personal phone call had contributed to the accident.
The FAA changed its rules for aircraft flying over New York City's rivers after that collision. Pilots must call out their positions on the radio and obey a 161 mph speed limit. Before the changes, such radio calls were optional.
Dudley filed a lawsuit against a proposed heliport in Kearny, N.J., after that deadly collision, citing safety concerns. He argued that additional planes flying over Jersey City, N.J., on their way to New York would create dangerous air traffic, the Newark Star-Ledger reported at the time.
Witnesses said Tuesday's crash happened quickly, with the plane sputtering and appearing to be in some type of mechanical distress. Carlos Acevedo, of Puerto Rico, was with his wife at a nearby park area when they saw the helicopter go down.
"It sank fast," he said. "In seconds. Like the water was sucking it in."
2. Credit agency happier with Air NZ
Business risks to Air New Zealand from natural disasters here and in Japan are easing, says international rating agency Moody's Investors Service.
Moody's put Air New Zealand's rating on a negative outlook in March, saying the Christchurch and Japanese earthquakes, and rising fuel costs, created uncertainty for the airline's earnings.
That volatility remained but the rating agency was more optimistic that the risks were diminishing and conditions were more stable.
The airline posted a loss of $37 million for the six months ended June 30, with natural disasters wiping about $70 million from its full-year earnings.
Air New Zealand's ability to cut costs impressed Moody's, which said the airline's lower fuel consumption and cheaper labour costs showed an improving trend. Fuel costs remained the biggest variable, and accounted for about a third of the airline's operational expenses.
Moody's said it expected the airline to show a better debt-to-earnings ratio in the coming year as it cuts capital expenditure, though that would not go far enough to push its underlying rating to investment grade, which would require a "significant debt reduction".
Moody's also cited the airline's liquidity as a strength and expects Air New Zealand to generate between $550 million and $600 million in operating cash flow over the coming 12 months.
The carrier, which is 74.7 per cent owned by the Government, could rely on its dominance in the domestic market to support its credit rating, Moody's said.
The 80 per cent of the New Zealand passenger market controlled by Air New Zealand "is the most supportive single factor" of the airline's Ba1 underlying credit rating, it said.
The government ownership bolstered the rating to an investment grade Baa3, as there was implied support if the company fell over.
"The strength of Air New Zealand's market position was shown in its sustained profitability over the past several years (albeit with somewhat weakened profits in the most recent financial year)," Moody's said.
However the reliance on the local market was also a hindrance for the airline, exposing it to weakness in New Zealand's economy, it said.
Air New Zealand expected a $30 million windfall from the Rugby World Cup and at last week's annual meeting said it was still getting bookings from overseas fans. Christchurch game cancellations reduced the original expectation of $40 million.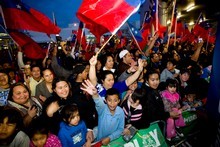 3. Cabin Crew Strike May Jeopardize Iceland Airwaves
The Icelandair cabin crew have called for a strike, starting on October 10, which could have serious consequences for the Iceland Airwaves music festival in Reykjavík, which begins on October 12.
Managing director of the festival, Grímur Atlason, explained to ruv.is that 70 percent of the bands scheduled to play during Iceland Airwaves are booked to fly with Icelandair during the period of the upcoming strike.
Also, many festival goers have booked a flight with the airline. "It would basically mean that there wouldn't be any festival. At least a very strange one," Atlason stated, adding such a blow would harm the festival's reputation.
"I don't know whether Inspired by Iceland would suffice to repair the damages," Atlason commented, referring to the marketing campaign which was launched to restore Iceland's image after the volcanic eruption in Eyjafjallajökull in spring 2010.
"We can't constantly live with having some volcano which is either set to erupt or not to erupt and people in the tourist industry who are always on strike. It is a type of violence which seems to be increasing.
4. Pan Am has nothing on my cabin crew experience says Norah Button
IT'S set to be one of the hottest series on telly this autumn. Launching this month Pan Am focuses on the crew working for the world-famous airline in the 1960s. Susan Lee speaks to an air hostess about the reality of life 40 years ago at 30,000 feet.
IT'S set to be one of the hottest series on telly this autumn. Launching this month Pan Am focuses on the crew working for the world-famous airline in the 1960s. Susan Lee speaks to an air hostess about the reality of life 40 years ago at 30,000 feet.
NORAH Button didn't become an air stewardess in 1963 for the glamour or the prospect of seeing the world.
"I just needed the money to keep my dancing school going," she laughs.
Now 72 and still principal of the Liverpool Theatre School in Aigburth Road she nevertheless looks back on her flying career with affection.
"I was cabin crew for about two years and I did miss it when I finished. I missed the comradeship and the laughter."
Norah was already a 24-year-old Miss Liverpool when she joined the now defunct British Eagle airline based in Speke.
"I was determined to help contribute to the family finances and desperate to earn money for my dance school which had originally been started by my gran.
"I had done all sorts of jobs, including being a cleaner, but being an air stewardess meant good pay.
"At the interview they asked me if I spoke French and I said yes – I didn't tell them I only knew the various ballet terms. I was supposed to have my hair cut too but got away with it by putting it in lots of little ponytails and pining it.
"In hindsight I think they took me on because I was Miss Liverpool."
She undertook 10 days of training – which she almost didn't complete.
"We had to practise evacuating an aircraft, crawling out along a wing and down a rope. One girl behind me was terrified of heights so I told her I'd help and to grab on to my ankle.
"Half way across she froze. They had to send the fire brigade up for her. I think it was suggested that a career in the air might not be for her and I got into trouble too!"
Nevertheless within weeks Norah was flying across Europe.
"I adored the flights to Lourdes because the people were lovely. These were passengers who perhaps hadn't flown before and had saved up to go. They couldn't do enough for me and always wanted to help clear the trays.
NEWZEALAND AVIATION NEWS
Aviation NEWS By
Neha Jain
Aviation NEWS Reporter